I know cupcakes are totally
in
nowadays in Jakarta, but unfortunately I haven't tried them yet :( I'm afraid to eat one cos they are supposed to contain a lot of sugar and butter, no?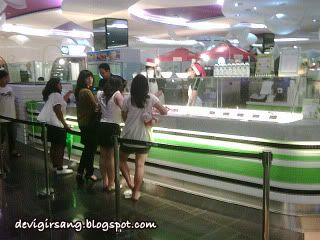 During 
out and about
, I was attracted by this cute illustration of a girl with a head bigger than her body LOL. It turned out to be a new hang-out place offering unique concept of healthy snack.
Sour Sally
is (probably) the first of its kind in Indonesia that provides U.S. Premium Non-Fat Frozen Yogurt. However, one thing to remember in mind, NON-FAT doesn't mean NO CALORIES. But then again, I think the owner has already anticipated those typical question by putting ingredients list along with the calories of each of them. 
As far as I remember, the frozen yogurt has 20 calories itself (excluding toppings). Thus it won't ruin your diet program of course. Toppings vary in fresh fruits with low-level of calories; blueberry, strawberry, peach, nata de coco, mango and many more.
Even though the name is put in English and the tagline is "U.S. Premium Non-Fat Frozen Yogurt", 
Sour Sally
 is originally from Indonesia. What a shocking facts! (regarding how much Indonesian people love something western-ish.) 
Moreover at your first time visit, you can also ask for tasting samples of the frozen yogurt first. It has two kind of yogurt; original plain and green tea. If you like both of them, you can have mix them up too! For those who haven't tasted yogurt in lifetime, first trial perhaps will be shocked cos the yogurt is heavenly sour tee-hee. It's available in 3 sizes; small, medium or large. 
Apart from frozen non-fat yoghurt,
Sour Sally
also offers Shaved Ice Yogurt, Smoothies and other drinks that are complementary like Ice Lemon Tea, Ice Green Tea and Mineral Water.
My very first order was a small size of Original Plain topped with Blueberry Jam and Peach that cost me
IDR 29,500
(including tax).
The blueberry jam really helped me to neutralize the yogurt's sour taste. It was so fresh and tasted really good! A must-try! 
If you have an acute gastritis, I recommend you to have a meal first before you eat yogurt otherwise you'll undergo abdominal upset or pain due to the sharp-tasting of the yogurt. For diet junkies, eat properly.
Eating
yogurt is one way to achieve a healthy weight-loss, but eating it all the time is not good for your digestive system. Mind you, TOO MUCH OF SOMETHING IS NOT GOOD. Be wise.
Shaved Ice Yogurt (including 4 toppings) 
IDR 28,500 - IDR 31,500 (additional topping add IDR 7,000)