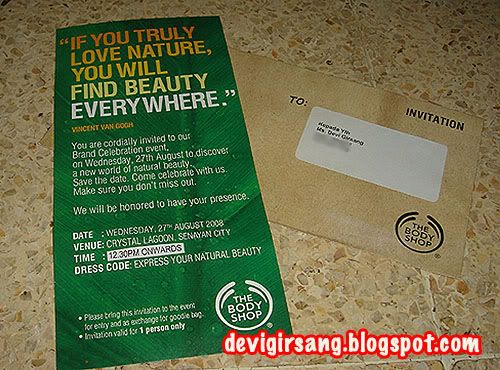 August 27, 2008. 12.30 PM
Crystal Lagoon, Senayan City
For the very first time in Jakarta, The Body Shop (TBS) held a brand celebration to introduce their new concept
"Nature's Way to Beautiful"
and the upcoming mineral make-up line called
"Nature's Minerals"
. The event itself was strictly limited to TBS People, the loyal customers of TBS. I'm sorry girls, I couldn't take you to the event cos the invitation is only valid for one person :(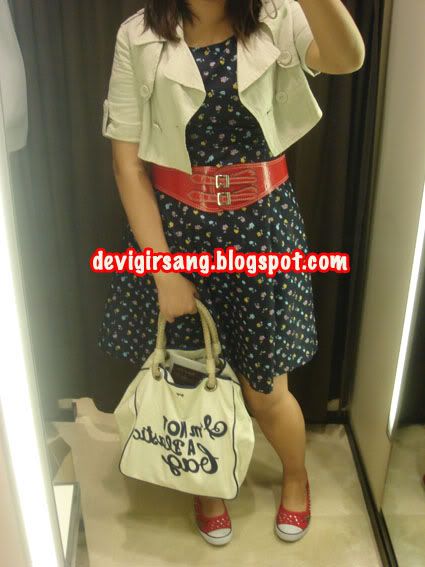 The dresscode was 'Express Your Natural Beauty'. I believed it has something to do with mineral make-up promotion. Actually I wanted to have a boho-chic style as for the outfit, however I made up my mind on the last minute. I didn't think I can pull off that style LOL!
Dress: tailor-made
Bag: Anya Hindmarch "I'm not a Plastic Bag"
The event started half-an-hour late, but it was great overall. TBS totally indulged its customers during the event. There were mainly 2 product ranges on the exhibition;
WELLBEING
(available at stores) and
Nature's Minerals
preview (will be available at stores on Oct 3, 2008).
Everybody had chance to get free hand massage, using products from WELLBEING range. I tried
Relaxing massage oil
and
Sublime body lotion
from Divine Calm line. First thing I remembered, the hand massage was fantastic. I felt relaxed for couple minutes, until a skinny old lady approached. She definitely didn't have a good manner by fussing about her turn and getting my nerves. Bitch! Lucky me, the staff who served me the massage was professional. She kept doing my hands without rushing. Nice!
The next stop was the make-up booth. All women were eager to try it on their face. I didn't show too much enthusiasm cos there was huge crowd there. Besides, mineral make-up was not something new for me. I had tried
Everyday Minerals
and
Ciel Minerals
, for instance. I took pictures while I was waiting to kill boredom.
Nature's Minerals offers 3 product lines for face, cheek and eyes. They have 4 different shades of foundation/powder, 4 blush colors and 6 colors of eye shadows. Yet, they also got minerals accessories like face brush (kabuki), blusher brush (baby kabuki), and eye shadow brush. The Beauty Advisors claim that the mineral make-up and accessories are complementary. We are not supposed to use other brushes cos it shall be a waste of efforts, they warned. In my opinion, you can use other mineral brushes you have as long as they have soft bristles.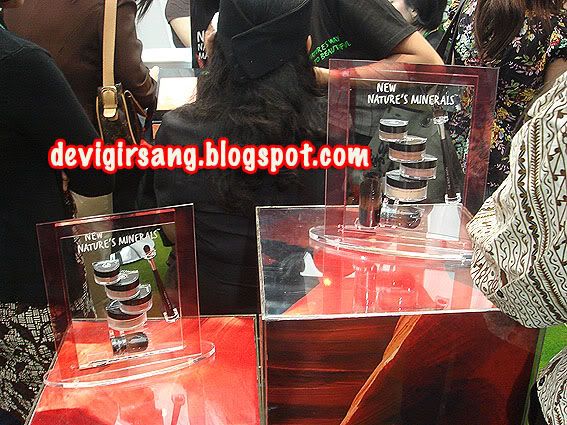 The Nature's Minerals foundation/powder already contains SPF 25, so you can save more time on your skin regimes by skipping sunblock application after moisturizer. It's lightweight and proven safe for sensitive skin. Quick tip before you choosing foundation shade: choose shade
1-level brighter
than your skintone. Why? Cos they will oxidize on your skin in few minutes after application.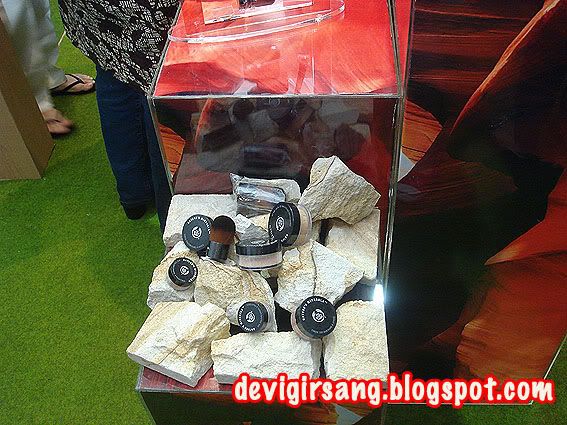 I tried foundation shade 01 and "warm copper" blush (shimmery orange). I also tried 2 colors of the eye shadow, however I cannot recall their names. I think it was platinum (silver color) and a touch of gold color as the highlighter. The verdict: I love it! It gave me a natural and dewy look.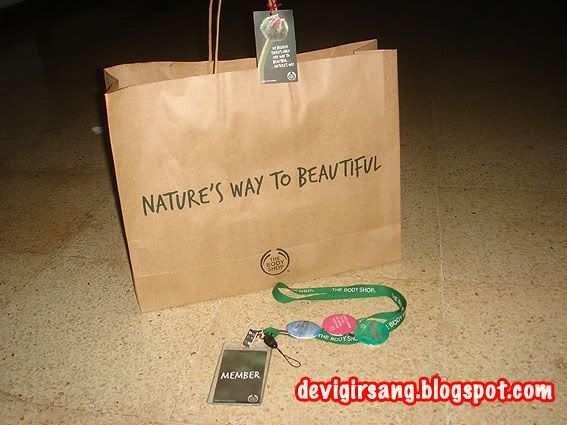 The IDR-338,000-worth goodie bag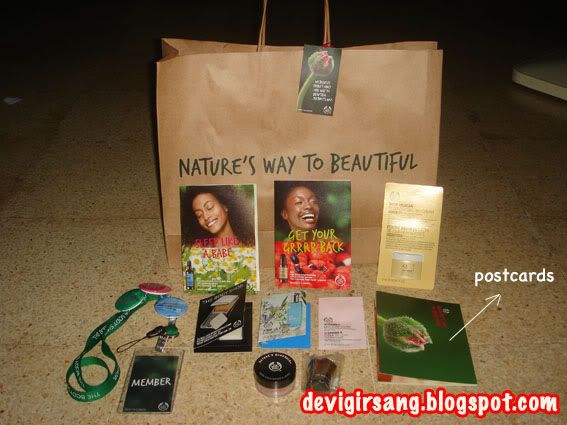 a FULL SIZE blush of the upcoming Nature's Minerals (Pink Quartz), a Nature's Minerals blusher blush, 6 generous samples from various range (
Deep Sleep Dreamy Pillow & Body Mist
,
Total Energy Pulse Point Balm
, Wise Woman Regenerating Day Cream, Aqua Lily EDT, Flawless Skin Protecting Foundation SPF25, and Vitamin E Moisture Cream), and a book of postcards. Oh I almost forgot, they also gave away voucher 20% off all items valid for one day only.