Once every year, along with the celebration of Jakarta's Anniversary (on June 22), there is a big event you don't want to miss;
Jakarta Fair

,

or later known as
Pekan Raya Jakarta

. This year, the

Jakarta Fair

(JF) was held on June 12 - July 13, 2008 at Kemayoran, Central Jakarta. It's like one-stop-shopping night market; you can browse the entire exhibition, promotion, food festival, family playground, art&culture, shopping area, and music concert from many famous Indonesian singers and bands like Slank, Dewa, etc.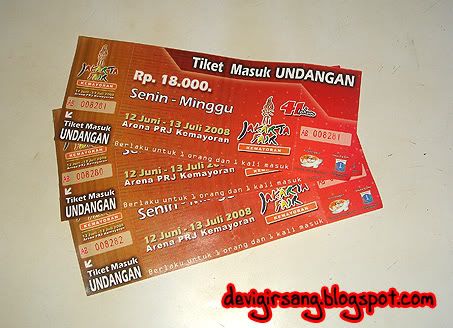 I went there twice, on July 10 and 11 in a row *LOL* because of the extra free tickets my grandparents got the other day. The tickets were sold pretty cheap I think,

IDR 15,000

(US$1.7) on weekdays and

IDR 20,000

(US$2.2) on weekends.

Honestly at the first place, I didn't really want to go there, however my grandparents were asking me to accompany them to buy random things like lamp holder, home appliances, and snacks! One thing my grandma and I have in common; we crave snacks and sugar a lot, he he he. No kidding! And yeah, how could I say NO to them?

It was really fun actually. I totally forgot to bring my digital camera on day one, so all pictures were taken on day two.

Let's begin with the entrance way.


We entered through the Gate G around 5.20 PM. My grandpa got free pass for advanced age (65+) by showing his ID and so did my grandma. Unfortunately, my grandma's ID was rejected cos she had used it before. The office lady explained that the free pass can be used
only
for single entrance, not multiple.

So how come they did approve my grandpa's? It was tricky, but my grandpa didn't mean to. He used his driving license as an ID at the first time! As you may guess, the computer has not recorded his ID yet. He wasn't that lucky though, cos the main reason he showed it's simply because he lost his wallet few months before.

Poor grandma.

Luckily, I coincidentally brought another extra free ticket she could used. She was really happy for it!
:)

It was getting real crowd at night, when the music concert was about to begin.


My grandparents walked pretty slow and wanted to take a rest after every 20-minute walking, whereas my spirit was on peak to check out the other halls. So, keep up the pace! :P



I think that's all for now. I have to go bed within 10 minutes to be able to take Yoga Class at 10 AM. I'll keep you updated with my recent purchases from the event! Stay close ;)



GLOSSARY


*arisan: a meeting fraternity of females who meet regularly to share gossip and draw lots to see who takes home the money they all contribute.