I have received some interesting e-mails from my blog readers few weeks ago. Thanks for writing me, I really appreciate it.

Today's post I dedicate specially to Jenny in Queensland, Australia. She wrote me asking for my perspectives of Indonesia and especially Jakarta to get a feel for this wonderful country, since lots of websites are more concerned with negatives. Moreover, she told me that her husband will have been transferred to the Jakarta office for his work in January 2007 and apparently, he will take his family to go with him. I'm glad to hear her family good news.

As a mother of 3 young children, I really understand why she has such concern and excitement to get a feel and know more about Jakarta in particular. Frankly, I always do the same thing before traveling out of town or even overseas; getting information as much as possible about my destination! Most of time; I often seek for its shopping place and typical food of the city. *grin* Not to forget about common tourists destination as well.

Ok back to the topic…

Traveling to Jakarta is slightly a bit different than moving to stay for a period of time. It's not just a matter of time, but it's more about adaptation to make you enjoy your staying.

I'm not going to tell you about tourist destinations, since you can read them from books or websites. I'm going to tell you about the different things you will find here in Jakarta.
Traffic Jam
…happens anytime, anywhere. "Car is a must-have item" may be the reason why Jakarta is full of private vehicles instead of public. You can't find tram, subway, or monorail (coming soon though) here. In my opinion, most people are not comfortable using public transportation because of the lack of security using them, like pickpockets. In addition to that, most of public transports are dirty, full of graffiti, and nasty. Not to forget about the easiness to have a car or motorcycle with low-interest credits, no wonder you can always get trapped in a traffic jam for hours; anytime, anywhere. Take a deep breath and try to relax. Welcome to Jakarta! :-)
Say Goodbye to (drinkable) Tap Water!
Why? Because there is no such tap water available in Jakarta. You ought to boil first the tap water here, and then you shall have –at least good water to be consumed. I realize it's quite difficult to change a habit, but please keep it in mind; otherwise you may have a stomachache. In some areas in Jakarta, you may find yellowish tap water or even salty. I'm sure it's all because there is sea nearby, or perhaps, the quality of its land. Tap water in Jakarta is commonly using air tanah. (Each house has a pump-well to get water from the soil.) However, in order to have better quality water, you can subscribe to PAM Jaya (a private institution) by paying bills every month. Yes, you have to spend more money on this, since water plays important role in our daily life.
Food Hawkers
There are a lot of food hawkers you shall find here. Even in your neighborhood, you can always find some food hawkers. The common menu for breakfast is chicken porridge, complete with kerupuk. Along the day, you may see other food like gado-gado, ketoprak, mie ayam & bakso, gorengan, rujak, siomay, pempek-pempek Palembang, and many more. If you wish to have supper but no meals available in your fridge, no worries; there are also food hawkers in the evening! The choices may vary in other areas; sate ayam/kambing, nasi goreng tek-tek, etc. My advice; please take a TYPHUS VACCINE first (to prevent typhus) once you arrived here, since most of food hawkers don't put much attention for their food hygiene.
No shower, No tissue; No Cry!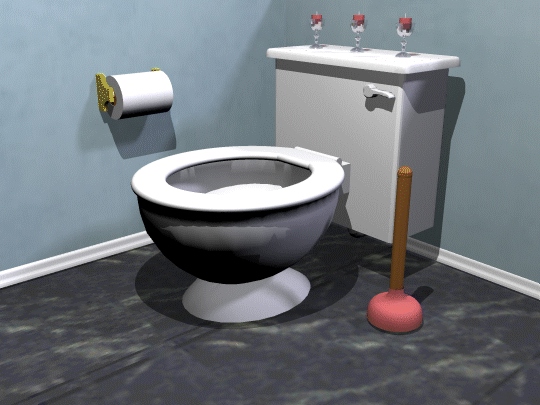 Let's have a look inside the bathroom. Err..bad news! No shower and no tissue there. If you spend nights at a hotel, you shall find those two. But not at home. Most Indonesians prefer to have bak mandi; a cube containing water, and gayung to take water from the bak mandi, instead of a shower. Bak mandi is not a bathtub, okay, so don't put yourself into it. It's smaller for a bathtub anyway. As for tissue stuff, well I have to admit most of bathrooms don't provide it, except for those malls', hotels', or some houses'… I think you should try another way to clean it; the hints are hands, gayung, water, and soap bar.
Public Places
What kind of public places we don't have here (as far as I'm concern); playground, Dog Park, public library! *sigh* So if you wish to read some books for free, you have to go to malls and find a bookstore providing comfort just like home; e.g. QB World Books (you can find it at Jl. Sunda, Plaza Semanggi, Kemang, Arteri Pondok Indah, Plaza Senayan), Ak.sa.ra (Kemang, Cilandak Town Square, Plaza Indonesia), or Kinokuniya (SOGO-Plaza Senayan, Debenhams-Plaza Indonesia). FYI, when you want to cross a street, besides watching Green Light for pedestrian, you have to watch carefully for cars! Don't get confused if the sign tells you to walk meanwhile the cars still running fast, just wait up or you'll get hit. In Jakarta, some people believe that rules are made to be broken. *sigh*
Internet Access
Another bad news, our internet access is extremely SLOW, especially for dial-up connection. We do have cable connection (approximately US$80/month –unlimited) and ADSL (US$200/month –unlimited) though. But still, both of them are limited to some areas. Don't be shocked and get cranky just because of this, okay, I've told you in advance. LOL.




Photos taken from:
Traffic Jam: http://www.epa.gov/
Tap Water: http://www.rwcc.com.au/
Toilet: http://www.irtc.org/